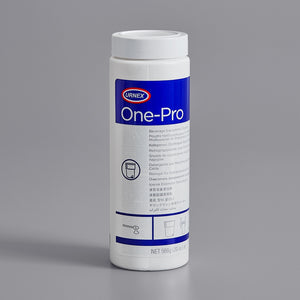 Urnex One-Pro Cold Beverage Cleaner
Regular price $44.78 Sale
Introducing Urnex One-Pro Cold Brew Cleaner.
One of the worst parts about offering cold brew in your cafe is cleaning. Those coffee oils cling to your brewing buckets or tap systems like cotton candy bubble gum to a child's hair. But not only are coffee oils difficult to fully remove, they also trap bacteria. Yuck!
With One-Pro Cold Brew Cl;eaner, you can rest assured that your cold brew systems are clean and sanitary, ensuring that old oils and bacteria don't even get a chance to leach into your next brew.
If you want better tasting coffee, cleaning out your equipment with this powder on a regular basis can help achieve your goal of offering the best beverages around. Plus, it comes in a convenient 20 oz. jar in a powder form, making it easy to ship, store, and measure out. Simply follow the easy-to-read instructions to make cleaning your equipment a breeze. Ensure safe beverage preparation in your cafe, restaurant, or coffee shop with this One-Pro powder!
Whats in the box?
1 x 566gm jar of cleaning powder.
Instructions:
-Remove any filters or liquid from beverage equipment
-Fill the equipment vessel with cold water and rinse out
-Fill the vessel with warm water and One-Pro cleaner at a dilution ratio of 1 oz. cleaning powder to 5 gallons of water
-Let the vessel sit for 15 minutes
-Drain the cleaning solution from the vessel
-Fill the vessel with cold water; rinse and drain water from the equipment and dispensing spout, if applicable.
-Rinse again with cold water and then dispense the remaining water