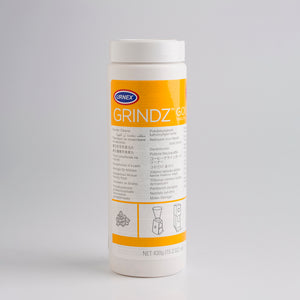 Urnex Grindz Grinder Cleaning Tablets 430gm
Regular price $42.94 Sale
Urnex is the world leader in specialty cleaning products for coffee and espresso equipment.

The development team at Urnex has developed a better way to eliminate coffee oils from your grinder burrs and casings.

Add Grindz tablets to your bean hopper, grind them like you would coffee beans, and contaminated coffee particles and coffee oils are gently dislodged and because Urnex Grindz is food safe and only edible ingredients are added, there is no residue or chemical taste left in your grinder.

We recommend using Grindz to clean your grinder every time you descale your espresso machine. Each bottle contains 430gms of Grindz tablets.                                                                                                                             Whats in the box?
1 x Urnex Grindz Coffee Grinder Cleaner 430gm

DIMENSIONS height: 200mm width: 70mm                                                                            
FOOD SAFE Patented all natural, completely food safe, and gluten free     UNIQUE DESIGN First product in the world to removes stale coffee residue and flavored coffee odors.
SUPERIOR PERFORMANCE Cleans grinder burrs and casings Helping extend the life of the grinder. No grinder disassembly needed                                                                                
SPECIFICATION                            
Urnex Brand                                  
Tablets                                      
Grinder burr cleaning                    
polypropylene BPA free jar

Backflush (each group head):
Step 1                                                                                                              Empty all coffee from grinder.                                                                        Step 2
Add Grindz™ Grinder Cleaner – use 1 capful (35-40 g) for espresso grinders or 2 capsful (70-80 g) for shop grinders.                                          Step 3
Adjust grinder to medium setting and operate.
Step 4
To purge, repeat above process twice with coffee.                                      Step 5
Repeat if desired.

Note: Dust may develop during grinding and is harmless. Wipe particulates from hopper, spout, and doser. Keep container tightly closed and dry.